HeppSY
We are working with The Higher Education Progression Partnership South Yorkshire (HeppSY), part of the Uni Connect Programme, to help ensure our students are informed about higher education opportunities. HeppSY works across the region to help young people understand the higher education opportunities available to them and realise their potential. They offer educational sessions, as well as careers advice and guidance. You can find out more about them here: https://heppsy.org/ You can also find a useful guide for parents and carers supporting their children to apply for higher education here: https://www.hepp.ac.uk/who-are-you/parents-carers/
HeppSY have a twitter account, please make sure you follow this account as they share lots of useful information - @HEPP_YES.
They also have
• Facebook - www.facebook.com/HeppSouthYorkshire
• Instagram - www.instragram.com/HeppSouthYorkshire
• LinkedIn - https://www.linkedin.com/company/higher-education-progression-partnershiphepp/
Sir Thomas Wharton Academy have recently become involved with a new project (HeppSY) that is linked with Sheffield Hallam University and our local National Collaborative Outreach Partnership (NCOP).
NCOP is a national programme funded by the Office for Students (OfS). The Higher education outreach activities that they provide are aimed at showing students the higher education opportunities available at college and university, and how completing a higher education course can benefit their job prospects. The activities may also improve students' attainment. The activities are being run by HeppSY, Hepp, Sheffield Hallam University, The University of Sheffield and other approved partners. The National Collaborative Outreach Programme's (NCOP) aim is to increase the number of young people progressing to university and higher education by 2020. Your child may have the opportunity to take part in activities such as university campus visits, summer schools, finance workshops and other higher education opportunities.
Please find further details in the information sheet:
HeppSY Full Privacy Notice 2023-24
UNI4U@HOME
Sheffield Hallam University have provided a new online resource for future students, teachers and advisors. The pages are constantly updated so please click here for more information.
Heppsy news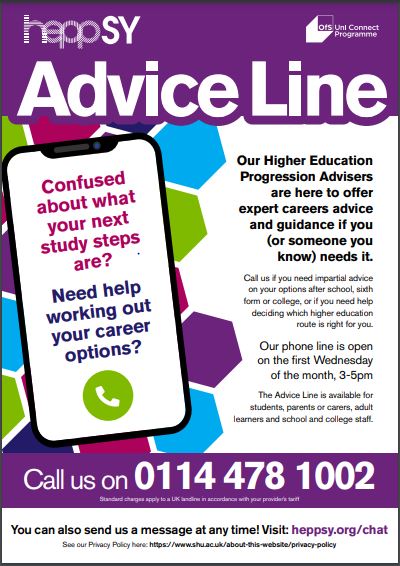 HE: A guide for Parents and Carers
Supporting young people and adults in higher education